Thursday 04/05/2017
First of all, I would like to thank the European Commission for leading this dialogue on the data economy and the permanent representation of France to the EU for organizing the participation of the French Digital Council to this discussion.
The French Digital Council is composed of 30 digital experts appointed by the French President, entrepreneurs, investors, representatives from civil society and also academics. We are all volunteers committed to only one purpose: to help the French government to elaborate, shape and implement digital public policies.
Last week we issued a first opinion on the European Commission's communication on Building a European Data Economy. It can only be a first one because of the many uncertainties that remain today on the consequences of a new legal framework in this field:
The are still many uncertainties on the legal concepts we use when talking about data. We don't have one single legal approach but a fragmented one based on the diversity of realities that data can relate to ;

There are still many uncertainties also on the various uses of data and on the markets that could still emerge in the future.
These uncertainties lead us to one first impression. Maybe what is necessary now is to focus on the specific needs of European industries and ecosystems rather than on the creation of great new principles. The question should be: what are the concrete measures that can make Europe benefit more from the digital revolution?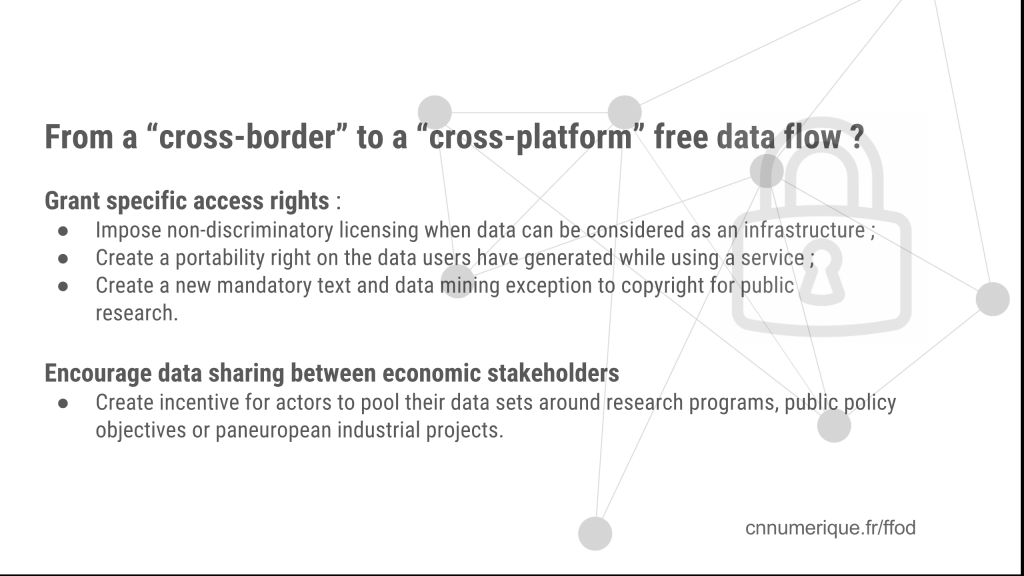 At the French Digital Council we are members of the European economy and society. To issue our opinions, we open our discussions to a broad range of actors. A very strong feeling has emerged from these discussions. Today, it is not so much national boundaries that create roadblocks to the free flow of data that lock-in and data retention strategies between economic stakeholders.
If restrictions to the free localisation of data exist, we don't see it today as the number one issue for Europe's digital future. We rather believe that the obstacles to the reuse and sharing of data dramatically lower the benefits that can be reaped from data. Because value doesn't come from data itself but from its recontextualisation and its crossing with other datasets. It is the cross-referring of data from different origins that will allow the development of new information and services.
Besides, in the age of Artificial Intelligence, the question of access to data becomes crucial. Indeed, the algorithms used by AI developers are under open licenses in most cases. This means that all the actors of the sector can have access to it. This also means that the only comparative advantage becomes access to the data used to drive the algorithms. Therefore, it is necessary to think about the modalities of data sharing between actors. We need to avoid the development of this key technology to be limited to only a few companies able to capture a sufficient mass of data and to enclose it.
In order to address this issue, we believe that several actions from the EU and its member states are necessary.
1. First of all, we believe that there are access rights that should be granted in specific cases. We have identified at least three scenarios:
The first one is when data can be considered as an infrastructure, it means when the access to data is essential to enter a market. We should then impose non-discriminatory licensing. The European Commission should lead studies across sectors to identify situations where data sets can not be reproduced by competitors. There are cases where the use of non-discriminatory licensing has been efficiently used in the past. For example, the 2007 regulation of car manufactures' information provides that manufacturers must ensure that independent operators have easy, restriction-free, and standardised access to information on the repair and maintenance of vehicles; discrimination with respect to authorised dealers and repair workshops is not allowed.

We also need to create a portability right on the data users have generated while using a service. Such a right would enhance competition among service providers and also reduce the asymmetries in power between customers and providers of data-driven services. For these reasons, this right should concern both private and professional users.
In France, last october, the Digital Republic Act introduced a new provision in the Consumer Law, which grants consumers a right to the recovery and portability of their data. This right goes beyond the GDPR: it enables consumers to recover, free of charge, all data associated with the user's online account. So it covers all data  that they have stored online, including non-personal data and data files. The data controller must provide the data in a readable format. If that cannot be done, the data controller has to inform the consumer of such restriction and provide alternative ways for the user to recover his/her data. We believe these provisions are heading in the right direction, and should make their way in EU law.
To make European research fully benefit from the big data revolution, we should also create a new mandatory text and data mining exception to copyright for public research. Such an exception would allow researchers to mine databases and extract new knowledge from vast amounts of scientific data and literature.
2. Next to these access rights, incentives need to be created for the sharing of data between different operators.
We need to overcome obstacles to the reuse and sharing of data between economic stakeholders. We need to incentivize actors to pool their data sets around research programs, public policy objectives or paneuropean industrial projects. To this end, states could promote open standards in application programming interfaces (APIs) and data formats. They could also provide the public with model contract terms or assistance for the pooling of data sets.
We believe that these first steps are essential in order to build a framework that ensures that data are used by every player in the value chain, for scientific, social and industrial purposes. We need to ensure that the data economy benefits everyone. Hence, the goal of the Commission should be to foster the emergence of an open data environment,  that means an environment that encourages competition and the dissemination of innovation capabilities.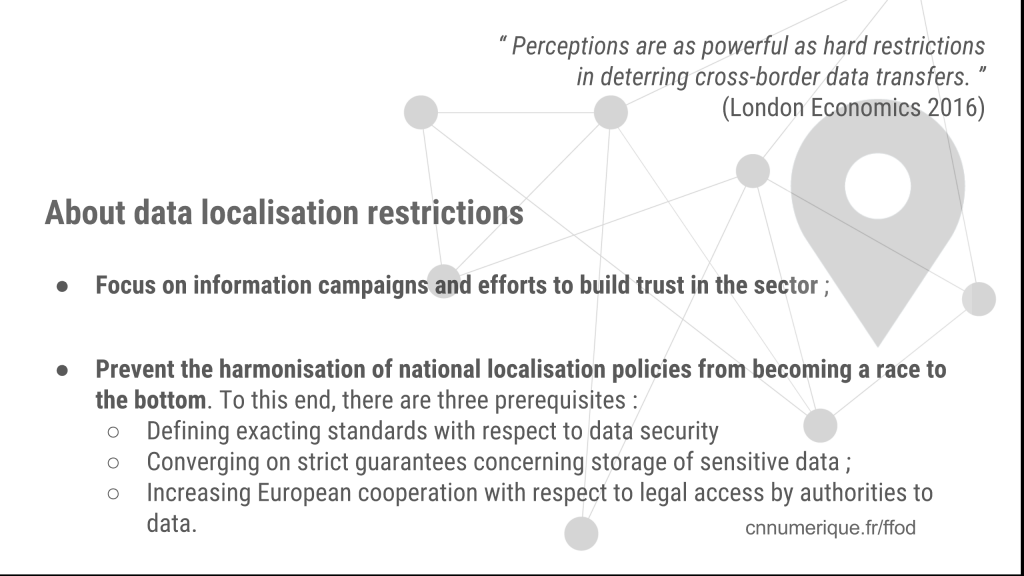 About data localisation restrictions, the question should be: what objective are we are following? We understand that what we need is a less fragmented cloud market, that can allow big European players to emerge.
It appeared to us that the fragmentation of the cloud market very much depends on factors outside the legislative sphere. As a study from last year has shown, "perceptions are as powerful as hard restrictions in deterring cross-border data transfers." Some consumers indeed believe - perhaps for wrong reasons - that the localisation of data within their country still provides better security.
The Digital Single Market should therefore focus on information campaigns and efforts to build trust in the sector, such as the "European Secure Cloud" label.
If the Commission and member states want a legislative initiative however, we need to regulate with extreme caution because we need to prevent the harmonisation of national localisation provisions from becoming a race to the bottom.
Three prerequisites should be a condition to any legislative initiative concerning the lifting of data localisation restrictions:
the definition of exacting standards with respect to data security,

a convergence on strict guarantees concerning storage of sensitive data,

and increased European cooperation with respect to access by the authorities to certain data, particularly as part of court cases. Special caution should be exercised concerning the free flow of social and tax data, in the context of efforts to combat tax evasion.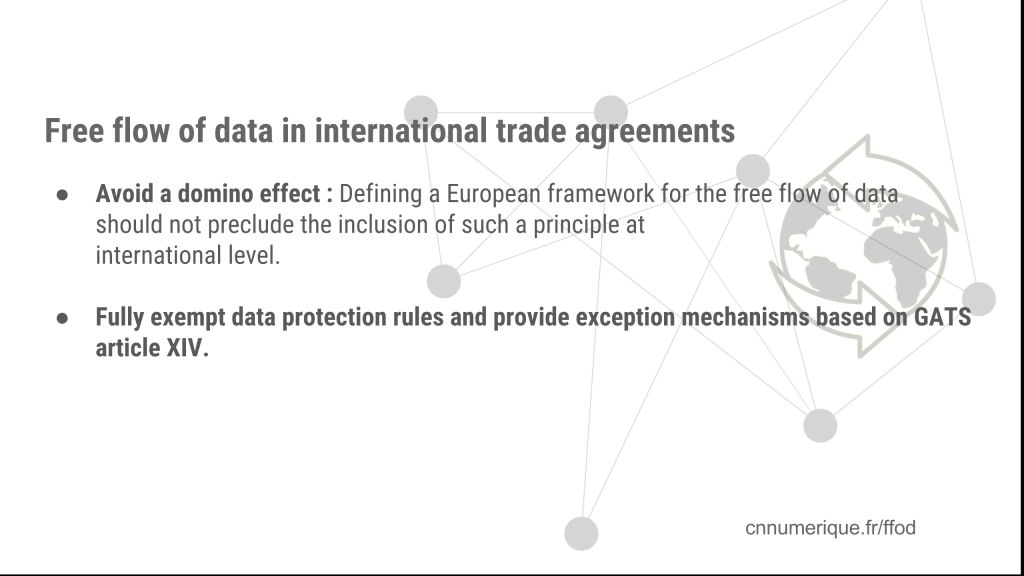 To conclude, the members of the French Digital Council wanted to remind the Commission that defining a European framework for the free flow of data should not preclude the inclusion of such a principle at international level. We must avoid a domino effect.
Such an inclusion would raise major issues regarding competitiveness, consumer protection and respect for basic rights. On the one hand, the strong imbalance between the European digital industries and the non-European digital giants calls for an essentially defensive strategy. On the other, the inclusion of this concept could undermine the sovereignty of European countries in terms of regulation, taxation, security and public policies. In this respect, it is essential not to play down the economic, social and political value of data; its flows shape value transfers in the 21st century and we are still struggling to evaluate its significance.
In our opinion free flow of information provisions in trade agreements should fully exempt data protection rules; and it should at least provide exception mechanisms based on GATS article XIV.
The opinion of the French Digital Council on this subject is available (in French) here and in English here.